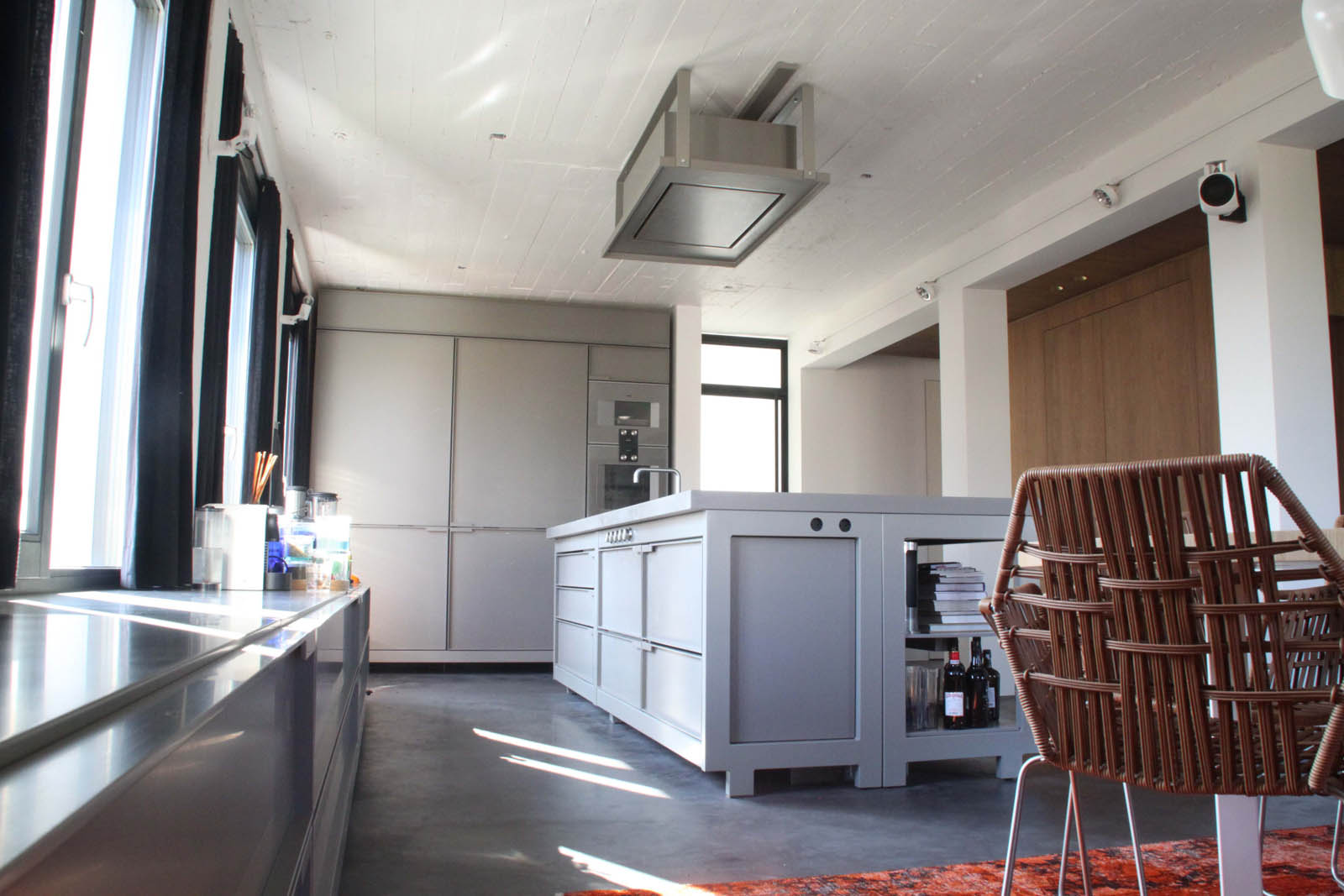 Penthouse, Amsterdam
The repurposing of an office building that goes from 4 floors to 4 big apartments. The new residents (a couple with a 13 year old child) asked me to design the interior for their top floor apartment (200m²) and roof terrace (140m²).
Most important factor with the division of the space was the sun. This property has large windows in all façades and on the East and South facade cantilevered balconies. Between the columns structure in the middle of the room, there is a stairwell and an elevator shaft. What could be more luxurious to enter directly from the elevator home?
Some functions are linked to the elevator shaft, some as the boiler room, laundry room, cloakroom and stairs. This is called the core of the space and through this you create two spaces on either side of it. Those two spaces will function as bedrooms. The remaining space is used as an open living room with kitchen. The facades are completely stripped up to the masonry. The ceiling is, because of its small height, kept in sight and the power floated concrete floor is provided with underfloor heating.
The core of the space is coated with walnut wood. This luxurious choice of wood is in contrast with the rawness of the existing space.  With refined details and cantilevered treads this is seen as a furniture piece. The kitchen cabinets and island is made of Hi-macs and fits seamlessly into the industrial character of the space. In the middle of the room there is placed a swivel wood fireplace whereby it can be seen from all corners of the house.
The rooftop structure is used as a cinema and guesthouse. The roof terrace is 'ibiza-style' and has several lounge areas, a bar, a barbecue and an outdoor shower. The wooden platforms with artificial grass and high vegetation make it as an oasis amid the bustle of the city.